Derrick Rose's Injury Changes Chicago Bulls 2012 NBA Finals Odds
April 30th, 2012 | Author: John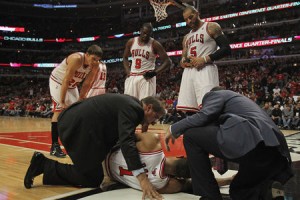 The Miami Heat have been favored for a while now to win the NBA Finals despite not clinching the no. 1 overall seed in the NBA Eastern Conference playoffs. If there were any argument about that, it's probably over with after this weekend.
Chicago Bulls point guard Derrick Rose tore his ACL Saturday in Game One of the first round against the Philadelphia 76ers and will miss the rest of the postseason. He'll even miss the Summer Olympics in London. That means bad news for the Bulls, who were hoping to break through Miami and reach The Finals for the first time since the Jordan Administration.
"I think we all feel awful for him," Bulls head coach Tom Thibodeau told ESPN. "Derrick's not only a great player, he's a great teammate, he's a great person, but it's not a death sentence. It's not a death sentence for him, it's not a death sentence for our team. He's going to come back. He'll come back better than ever. It's just the way it is and we've got to deal with."
True, he Bulls will likely win their series against the Sixers and advance at least to the second round. After that, they'll face the winner of Boston/Atlanta. Thibodeau insisted the injury isn't a "death sentence", but most people are pretty certain it's at least in litigation. Thibodeau faced a mini-controversy after Rose's injury for leaving him in the game too long. Chicago had the game in hand with 1:22 left in the fourth when Rose got injured.
General manager Gar Foreman said there was "no issue at all" with the situation.
"There's absolutely no issue there," Forman said. "It's a playoff game. They had cut a lead down to 12 and we're going to have our guys on the floor making sure that we win the basketball game, especially in that situation.
"I was actually surprised when I heard (there was a controversy)," he added ". But it's absolutely no issue with us and I don't see where it would be with anybody. Again, you're in a playoff game where a lead has been cut by eight or 10 points. It's a key time of the year and you're trying to win the game, finish strong and win the game."
That's all fine and good, but bettors are jumping ship quick. Odds for the Bulls to win the NBA Finals are plummeting on Bovada's NBA Futures page.
Bovada has Chicago a 9/1 favorite, just better than the Los Angeles Clippers and Boston Celtics.
But the real odds the Bulls will win the title?
"They're dead," Mike Colbert, Cantor Gaming's director of race and sports, told Covers. "They've got no shot against Miami and they might not even make it that far."
Last year, even when Rose was healthy, they were underdogs to win the series against the Heat.
Most books won't even favor Chicago to win its home games if they advance to play Miami.
"We were thinking the games at Chicago would be around a pick with Rose in the lineup, so Miami would probably be a 1.5 or 2-point favorite in those games now," South Point book maker Bert Osborne told Covers.
The Bulls, who have managed the league's best record despite Rose's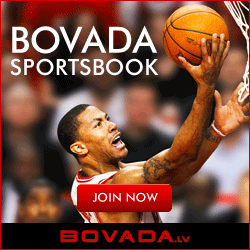 multiple injuries this year, have reportedly taken the recent setback hard, and for good reason. The Bulls were the third team listed on Bovada to win the championship, but will be lucky to even reach the finals now.
"The whole team has to step up," center Joakim Noah said. "Our margin for error is a lot smaller with Derrick out. Can you replace a guy like Derrick? No. But it's on us to step up as much as possible."
Leave a Reply