Early 2012 Heisman Betting Odds Have Matt Barkley Favored
March 6th, 2012 | Author: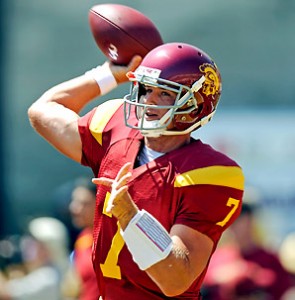 Matt Barkley opting to stay at USC for another year, for all intents and purposes, makes him the heir apparently to last year's Heisman Trophy winner, Robert Griffin III. An offense friendly to talented quarterbacks, the Trojans finally being rewarded for their on-the-field success and the fact that he'll be inarguably the best quarterback in the game next year all explain why Matt Barkley is 7/2 favorite to win the Heisman next in 2012.
What's interesting, though, is why his competition is getting such good odds. Coming off of last year you would think that Barkley would be far and away the favorite to claim Heisman honors, but looking at the Heisman Trophy betting odds that's not the case.
Michigan speedster Denard Robinson is nipping at Barkley's heels for college football's most prestigious individual prize, and his 5/1 odds mean that folks expect him to improve on his 20 touchdowns, 15 interceptions and 2173 yards from the year that was. In order to outduel Barkley, Robinson will not only obviously have to get those interception totals down, he'll also have to get the other numbers up. In a certain way, Wisconsin's Montee Ball having the same odds as Robinson, 5/1, makes a lot of sense. While he may not have had the same type of overall impact on running his team's offense as Michigan's starting quarterback obviously had on his, Ball did what he did (33 touchdowns, 1923 yards) arguably better than Robinson did what he did (a lot of picks).
Geno Smith out of West Virginia and Landry Jones out of Oklahoma are both intriguing as well, and both are listed at 7/1 to win the Heisman. There were some rumblings about Jones being a low key favorite among NFL GMs for a higher than expected pick had he decided to come out this season, however, by staying in college you would think that the Sooners passer would be able to grow his game even more and expand on that 29 touchdown, 15 interception and 4463 yard performance last season. Ditto with Smith, whose 31 touchdown, seven interception and 4385 yard performance last year will be doubly impressive if it repeats again in the much (well, maybe "sort of") tougher Big 12.
Marcus Lattimore (15/1) out of South Carolina, Tyler Wilson (18/1) from Arkansas, A.J. McCarron (20/1) out of Alabama, DeAnthony Thomas (20/1) out of Oregon and Rex Burkhead (22/1) out of Nebraska are all interesting in their own ways too. Lattimore and Wilson like won't be contending for a championship next year, but their individual showings should give them a certain amount of national prominence. Meanwhile, McCarron, Thomas and Burkhead may or may not be able to put up similarly hefty stats, but the fact that they will be playing for solid, championship contending teams may give them a spotlight they wouldn't have otherwise had.
Keith Price out of Washington (30/1), Sammy Watkins (30/1) out of Clemson, Tajh Boyd (30/1) out of Clemson, Taylor Martinez (30/1) out of Nebraska and Robert Woods (35/1) out of USC are also worth keeping an eye on.
2012 Heisman Trophy Odds – presented on Bovada's College Football Player Props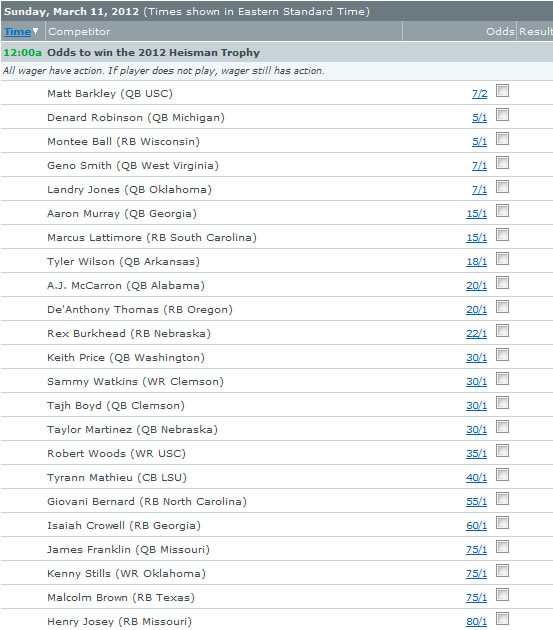 Leave a Reply