LSU Tigers And Alabama Crimson Tide Face Potential BCS Championship Rematch
November 2nd, 2011 | Author: Bryan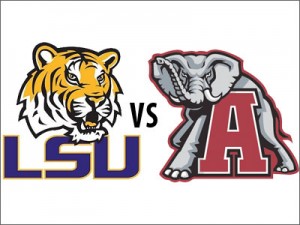 The Alabama Crimson Tide and LSU Tigers meet on Saturday night in one of the most-hyped football games in the regular season in quite sometime.
And for good reason.
It's a battle of the top-two teams in the country, with the winner predicted to go on to win the national championship.
Betting odds have most certainly reflected that.
BCS Championship futures odds have set Alabama at 11/10 to win the national championship, while LSU comes in second at 7/4.
Despite the No.2 ranking, the Crimson Tide are a five-point home favorite over LSU on Saturday night.
There is also talk of a potential rematch in the national championship game with the winner and loser of this game. While they might be the two best teams in the country, this likely won't happen with other teams like Stanford and Oklahoma State sitting behind, especially if one of them goes undefeated.
Leave a Reply