Madden 2013 Cover Odds: Cam Newton On Top, Rodgers & Gronkowski Close
March 27th, 2012 | Author: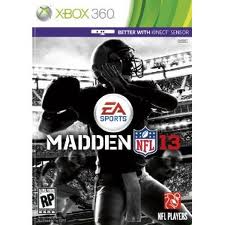 The plague. The privilege that's more of a punishment. The new athlete for the Madden cover, which has decidedly rickrolled several NFL careers, is soon to be decided on.
No matter how much weight Peyton Hillis could lift with his mass-cles, he couldn't keep the Madden cover from railroading him in 2012. Athletes like Daunte Culpepper, Marshall Faulk, Eddie George, Donovan McNabb, Michael Vick, Shaun Alexander, and Brett Favre have all been victims to unusual injuries following their cover season. Poor Vince Young was on the cover before he even fulfilled his potential, turning his Madden-plagued arm into an interception machine.
Whether or not it has merit, the curse will be put on a player this year by fan vote. Just as last year, fans have already went online and cast their vote for their pick out of the roster of 64 players. This voting system started with voting for head to head teammate matchups first, and can allow surprise player's like Hillis a chance usurp a superstar like Michael Vick. But, now that we're down to 32, the remaining players have been seeded and put into a tournament style bracket which we all just love… NCAA Tournament brackets.
However, fans have since admitted that some of the favorites to win will be purposely avoided to ensure that their team's star players would not get the Madden curse. So who is the heavy favorite to win this year now that we're down to 32? If you watched any kind of sports news or football last year, you probably would already have blurted out Tim Tebow, but he is currently down to 12/1 odds from 4/1 to be on the cover. This fall can be Manning signed the Broncos and Tebow moving on to the New York Jets.
As it stands currently, last year's Rookie of the Year, Cam Newton, currently leads the 2013 Madden betting odds followed by Rob Gronkowski's 11/2 odds, who both benefited greatly from Manning's signature sending Tebow to the Jets. This would make sense because game developers have already conceded he will draw a huge rating in the game regardless. MVP Aaron Rodgers is tied with Gronkowski (11/2), but is almost guaranteed not to win due to Green Bay fans purposely voting elsewhere to allow him an injury free season. What a group of fans down in 'Sconsin. The list continues with Megatron getting 12/1, Tim Tebow with 12/1, Victor Cruz with 12/1, and Arian Foster at 15/1.
Personally, I would have voted for Jason Pierre-Paul in the round of 64 because he is a freak and I love to watch him play. I love his nasty looking facemask, but I don't want to break his arm with my mouse so I am glad he didn't make it to the second round. I say we put an old retired player on the cover or let John Madden have his own bad luck back by putting himself back on. On second thought, let's go ahead and put Tebow on.
2013 Madden Betting Odds – available at Bovada Sportsbook

Leave a Reply