Miami Heat Back Atop 2012 NBA Championship Betting Odds
May 25th, 2012 | Author: Bryan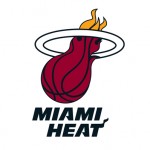 The Miami Heat made it about as difficult as they could against the Indiana Pacers, but are now back on top of NBA Finals Betting Odds, as the favorite to win the title.
The Heat lost that status a week ago when they dropped two of their first three games against the Pacers in the second round of the playoffs. But after a dominant effort in the next three games, they are now the frontrunner to win the title at 8/5 on Bovada's 2012 NBA Championship Odds , just ahead of the San Antonio Spurs at 17/10.
Oddsmakers weren't feeling too confident when Miami fell behind early. Chris Bosh was out of the lineup and LeBron James was left to shoulder the load at forward. To make matters worse, Dwayne Wade was hobbling and barking at head coach Erik Spoelstra.
But that got turned around in a hurry the next night when James and Wade went for a combined 71 points in Game 4, then 58 in Game 5.
They closed out the series with a 105-93 win on Thursday, sparked by a huge effort in the fourth quarter. Wade finished with 41 points and James poured in another 28. It was more than just a win, it was a statement that reclaimed their status as the team to beat going forward.
"In the regular season, we've had some good games," Wade told the Associated Press after the game. "But I don't know if we've ever had three in a row like that in the playoffs."
In the past three games, Wade scored 99 points with 22 rebounds while James had 98 points and 34 boards.
They will now face the Boston Celtics or Philadelphia Sixers, who will play a Game 7 tonight in Boston. The Celtics have a 15/1 shot at winning the NBA championship, and the Sixers are the longshots at 40/1.
San Antonio hasn't lost a game this postseason, starting a perfect 8-0 with sweeps of the Dallas Mavericks and Los Angeles Clippers. They will now square off against the Oklahoma City Thunder in the final, where Oklahoma City will be a slight underdog.
Leave a Reply