Miami Heat Favored Over Boston Celtics In Game 6
June 7th, 2012 | Author: Bryan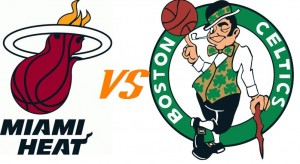 The Miami Heat need to win two in a row to make the NBA Finals, and it looks like they will be turning to Chris Bosh to play a larger role in doing so. Head coach Erik Spoelstra told ESPN Bosh might start in Game 6 after missing almost a month with an abdominal strain. He returned for Game 5, but played only a limited role, getting 14 minutes and sitting out the entire fourth quarter.
Even if he doesn't start tonight, he will see a larger chunk of minutes.
"I'm still going through that thought process," Spoelstra said. "But I think he'll be able to handle a bigger load of minutes, and it'll be based more on how he'll feel during the game."
Bosh only played in sporatic shifts a few minutes at a time, but told reporters he thought he could have played in the final quarter. Spoelstra instead he didn't think it would be "fair" to give him that many minutes in his first game back.
"Those are the decisions you have to make," Spoelstra told ESPN. "And I know after the fact, those can always be second-guessed. But we're treading in kind of new waters right now, and [Bosh] had been out quite a while. But he'll play more tomorrow night."
The All-Star is averaging over 18 points and seven boards this season, and said he feels back up to speed, aside from the aches of a big game.
"It's nothing major," said Bosh, who averaged 18 points and 7.9 rebounds in the regular season. "Everybody feels it after every game. I consider myself a lucky guy and will be ready for tomorrow."
Miami faces a 3-2 hole after a blazing streak by the Boston Celtics, and lost its status as front runner for the NBA Title, according to Bovada's 2012 NBA Finals Futures.
The Heat, though, are still favored to win the series, and are a 1 ½ point favorite tonight, according to Bovada's Heat vs Celtics Game 6 Betting Lines, with a 180-point total.
Leave a Reply