Odds For Game 3 Between Miami Heat And Boston Celtics
June 1st, 2012 | Author: Bryan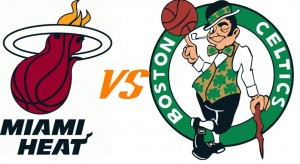 The Boston Celtics took their biggest swing at the Miami Heat in Game 2, but it wasn't enough in a 115-111 overtime loss to fall into a 2-0 hole.
And oddsmakers are finally starting to let go of their chances at another Eastern Conference title. After the Heat took a 2-0 lead, Bovada's Eastern Conference Futures Odds are giving the Celtics just 40/1 odds to rally and win the NBA Finals. Miami is still the favorite to win the league championship at 11/10, barely edging out the San Antonio Spurs, who had their 20-game win streak snapped Thursday night.
The two-game desparity wouldn't look so troubling had it not appeard the Celtics gave everything they had and lost in Game 2. Rajon Rondo went off for 44 points, just eight points fewer than Miami's Big Three, but foul trouble inevitably doomed Boston.
Head coach Doc Rivers complained about the disparity in foul calls in Game 2 – LeBron James had just five fewer foul shots than the entire Celtics team – but fouls are usually highlighted by teams who are hitting the panic button.
"Listen, it is what it is," Rivers said after Wednesday night's loss. "LeBron James took 24 free throws tonight and our team took 29. Paul Pierce fouled out of a game where he was attacking the basket. It's just tough. But listen, we just got to keep playing. I tell my guys, it doesn't matter, we can't get distracted. We will not get distracted in this series."
Still, Boston is back at the Garden for a stretch of home games that could even the series. It is a 2 1/2-point favorite in Bovada's Celtics vs Heat Game 3 Betting Lines with a 181-point total, and Covers reports a lot of action is on it's side.
Boston winning the next four games is the most unlikely scenario, according to Sportsbook.com's odds with a +1700 payout if it wins 4-2. If it takes seven games for the Celtics to win, bettors reap a +1100 reward.
The most likely result, though, is a Miami win in four or five games.
Leave a Reply