Pacquiao vs. Mayweather: Early Money On Manny
March 24th, 2015 | Author: Bryan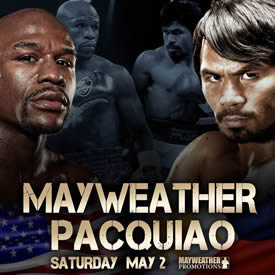 It's probably not a coincidence that the heyday of sports betting in the United States coincided with the heyday of professional boxing.
Few things are or were ever as exciting to wager a couple dollars on then watching an intense bout between two fighters with no gear, ball or field separating them.  When they step into the small ring wearing nothing but shorts and gloves, there is nothing coming between them.  Forms of sport that pure are rare, even to this day.
Now that boxing finally has a marquee matchup again, we shouldn't be surprised that sports betting is back on the rise.
Not since Super Bowl Sunday has legal online sports betting in the U.S. reported such huge numbers as with the recent announcement that Manny Pacquiao would be fight Floyd Mayweather Jr.  Initially, Mayweather was a heavy favorite to win the fight, but the response of bettors to Pacquiao has been overwhelming enough to affect the betting line on the fight drastically.
When the line was first announced back in October, Pacquiao was a (+250) underdog, meaning a $100 bet on Pacquiao would bring in $150 in pure profit if he were to win the fight.  Bettors have responded in fantastic fashion, with some sportsbooks reporting bets of up to $10,000 of the Filipino boxing sensation.
Flash forward to March, just eight weeks out from what boxing enthusiasts are already billing as "the fight of the century" and the betting line still favors Mayweather, but only slightly.  Pacquiao is only a (+165) underdog, and Mayweather is a (-205) favorite, the lowest Mayweather has ever been favored eight weeks out from a major fight.
Even as boxing fans await the actual contest, it should be interesting to see how bets from what the industry calls the "smarts" affect the betting line, and if the new odds will have an effect on their betting at all.
The "smarts" are the bettors who typically wait to see how reports from each fighter's camp go, opting to wait and collect information on a wiser bet rather than take a risk when the odds may be more favorable.  The best USA sportsbooks are expecting bets to balance out more toward Mayweather, while other analysts suggest that the favorable odds on Pacquiao may continue to tempt bettors in what some feel really should be closer to one-to-one odds.
Regardless of how the fight turns out in May or how the betting winds up leaning, it's good to talk about boxing in a relevant and meaningful way again.
Leave a Reply