Vegas 2012 NCAA Tournament Odds Indicate Bubble Teams Longshots
March 1st, 2012 | Author: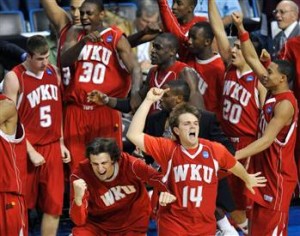 It's bringing me back the old days again. Sitting there wondering if she's going to ask you to the dance or not, wondering if you are good enough to even make the grade. At this point, you have done all you can do, stuck at the mercy of a selection process you only hope to be favored in. Then you hear the heartbreaking news that Todd Miller got the call and instead of going with Rhonda Bunting you're stuck with Trixie Spooner.
This, of course, was just an example for the Sadie Hawkins basketball tournament comin in March. Plus, everyone knows I would never go anywhere with Trixie Spooner. Teams like Kentucky, Syracuse, Duke, and North Carolina are sure to be first to be invited in this example, because they are the coolest dudes in school. The teams that are sitting by the phone waiting for an invite, of course, are the bubble teams. To stay consistent with this analogy, we will do an eHarmony version of college basketball review on who should squeeze in, and who will be left at the punch bowl come dance time. So selection committee, get your pro's and con's list out for these lucky bachelor's looking for an invitation.
The Harvard Crimson came out of the gates this year on fire. With a huge win over Florida State and Saint Mary's to tally a 14-2 record made them look very attractive. However, a lack of consistency with a loss to Fordham and a heartbreaker against Pennsylvania, shows a possible lack of consistency that could warrant a "I think you're really nice, but you're just not my type" from the NCAA selection committee. The Crimson are given 100/1 odds from Bovada to win championship if invited.
A team that is more of a "fixer upper" project with work left to do is the ACC's Miami Hurricanes. Their win over rival Florida State on Sunday could not have come at a better time giving people a little more optimism. After losing center Reggie Johnson to suspension, the Canes came out and roughed up the Noles, beating them by 16 to add to their key win over Duke. They are by no means perfect, but have an element of surprise that anyone searching for a date to the dance would love to have. The Canes are looking at 200/1 odds according to Bovada's NCAA Tourney odds, so getting there is more likely at least than winning the whole thing.
Lastly, how can I mention bubble teams without Shaka Smart at the VCU Rams. If anyone wants some excitement, unexpectedness, and magic than VCU is your date to the dance. The selection committee, however, will have a much tougher decision this year than previously even with 25 wins this year. The only big win of the season came against South Florida and it's hard to call that a signature win because USF itself is on the bubble. The Rams placed behind Colonial title winner Drexel by one game in a conference that was 0-7 against RPI Top 25 teams. The only chance they have left at this point is to go deep in their conference tournament, if not win the whole thing. But we all remember how the light bulb seems to turn on for Virginia Commonwealth in the postseason. Bovada is giving the Cinderella Rams 150/1 odds just to make another Final Four appearance. So again, if you want a fiery team and really love an underdog story, the VCU Rams are looking for your invitation.
Teams With Worst Odds To Win 2012 NCAA Tournament – see the rest of the underdogs at Bovada Sportsbook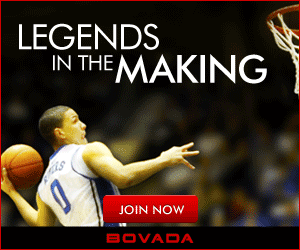 UCLA Bruins (500/1)
LSU Tigers (500/1)
Iowa Hawkeyes (500/1)
Butler Bulldogs (500/1)
Maryland Terrapins (500/1)
Mississippi Rebels (500/1)
South Florida Bulls (500/1)
Colorado Buffaloes (500/1)
Arkansas Razorbacks (500/1)
Leave a Reply