Vegas Betting Odds For BCS National Championship Game
January 9th, 2012 | Author: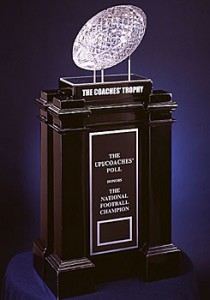 If you have not heard by now, the BCS National Championship game is tonight. This rematch between Alabama and LSU promises to be a much better contest than the 9-6 barn burner that took place during the regular season. Alabama was favored in that game however losing straight up to LSU proved the oddsmakers wrong.
As for the odds in the BCS National Championship, they are dead even. This game is a pick 'em with Alabama holding a slight edge as evidenced by the -120 payout. We found these odds at Bovada but do know that you may be able to find odds that are better in your favor.
Look below to find the Vegas Betting Odds for the Alabama vs. LSU rematch from the best online sportsbooks:
Bovada
LSU – Pick Em (EVEN)
Alabama – Pick Em (-120)
BetOnline
LSU +2.5 (-110)
Alabama -2.5 (-110)
Intertops
LSU +2.5 (-105)
Alabama -2.5 (-115)
5Dimes
LSU +1 (+105)
Alabama -1 (-125)
DSI
LSU +2.5 (-110)
Alabama -2.5 (-110)
Also, if you're interested in betting props, all of these sportsbooks have numerous options for that. Anything from Missed Field Goals (big story in the first meeting), to the winning margin can be bet on. Additionally, lots of prop bets are available for individual players.
Leave a Reply