With Chris Bosh Likely Returning, Heat Vs Celtics Game 5 Odds Formed
June 5th, 2012 | Author: Bryan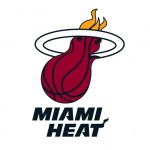 Looks like the Miami Heat will get the boost they were waiting for in Game 5 of the Eastern Conference finals tonight. Chris Bosh is expected to return after a nine-game hiatus and will be in uniform as Miami tries to regain the series lead against the Boston Celtics.
It's welcoming news to bettors as much as it is fans. The Heat are just 4-5 ATS during the postseason since he went down with an abdominal strain, and just 9-13 ATS without him this year overall. Bosh suffered the injury in Game 2 against the Indiana Pacers.
His presence in the lineup instantly improved Miami's odds tonight. Bovada's Celtics vs. Heat Betting Lines list Miami as an 8-point favorite with a -550 moneyline. It's a big number considering Boston's performance in the last two contests.
"When Bosh went down in the previous round, oddsmakers estimated his value to the pointspread around 1.5 to 2 points," a report on Covers read. "Jeff Stoneback, sportsbook director at the MGM Mirage, says that until they see how effective Bosh can be, and how many minutes he plays in Game 5, his worth to the spread should be around half a point."
But those odds got longer for Boston because of the momentum created by Bosh's news. His return means the Heat will be at full strength, something bettors have been waiting for a while now.
"I would say it (pointspread) would have been shorter," Stoneback told Covers."But with Bosh coming back, you need to take it up a notch. The public is going to see that Bosh is coming back, the Heat are at full strength and they expect them to step up, coming off consecutive losses, like they did against the Pacers."
LeBron James can now move back to his position outside instead of taking the post down low, giving him a more natural feel. Bosh is averaging 14.7 points and 6.8 boards this postseason.
"We'll know more for the next game," says Stoneback. "If he's able to play big minutes and be effective than (Bosh) could be worth more (to the spread)."
Leave a Reply