Wrestlemania XXVIII Betting Odds: Yes… You Can Bet On WWE Events
March 29th, 2012 | Author: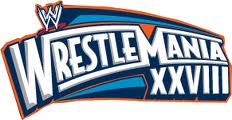 I still remember the Monday nights when no matter how much homework I had, I tuned into "Monday Night Raw" all the way until the credits rolled. Whether it was "Stone Cold Steve Austin", "The Rock", or any of the other familiar favorites, I loved every minute of what I was watching fake or not. But the faces I had come to root for started to get older and the new style of professional wrestling evolved with a new group that was set to replace them.
People like "The Miz", "CM Punk", Randy Orton, and "Sheamus" are now the new stars that are directly related to my complete disinterest in watching now. Those lukewarm names remind me of when Famous Amos cookies are gone, and I'm stuck with the Austin crackers. And not the really good cheese ones. Luckily, the horrible acting young wrestlers will get beat around by some of the old names I grew up with. On April 1st, Wrestlemania XXVIII will go down with Kane (+400) facing Randy Orton (-600), The Undertaker (-900) vs. Triple H (+550), and the main event including The Rock versus John Cena.
Anyone who has watched wrestling before knows that with every match, there is a twist or a storyline that is supposed to boost ratings. With this reappearance of big names from the past, it makes me wonder how they could lure a movie star like The Rock back into coming back unless he is winning his match against fellow movie (hold the star) actor, John Cena. Bovada has the Wrestlemania odds set for the main event of the night with Cena at -280 and The Rock at +220, but if the "People's Elbow" is anywhere to be found, it will be a night I wish I wasn't too cheap to buy pay per view.
The night will already be exciting when fans get to see Maria Menounos and Kelly Kelly take on…..let's be honest who cares who they face. If Maria Menounos has agreed to wrestle, she's probably going to win. Bovada also has them set as the favorite with -200 odds and their opponents at +160.
Other matches feature familiar old faces like "The Big Show" and Chris Jericho that will only help to build anticipation for the main event that has definitely drawn interest from old viewers like me. The complete list of odds can be found at the bottom of this article.
Wrestlemania Betting Odds – found at Bovada Sportsbook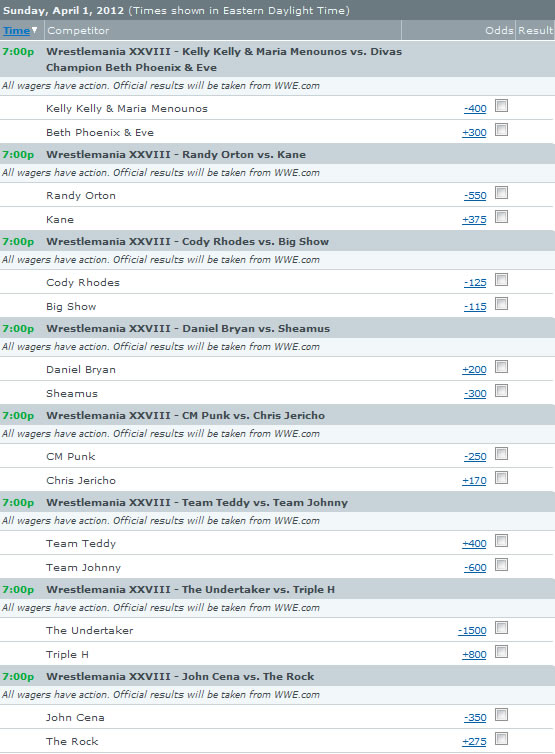 Leave a Reply